WE ARE LOOKING FOR A FRONT-END DEVELOPER!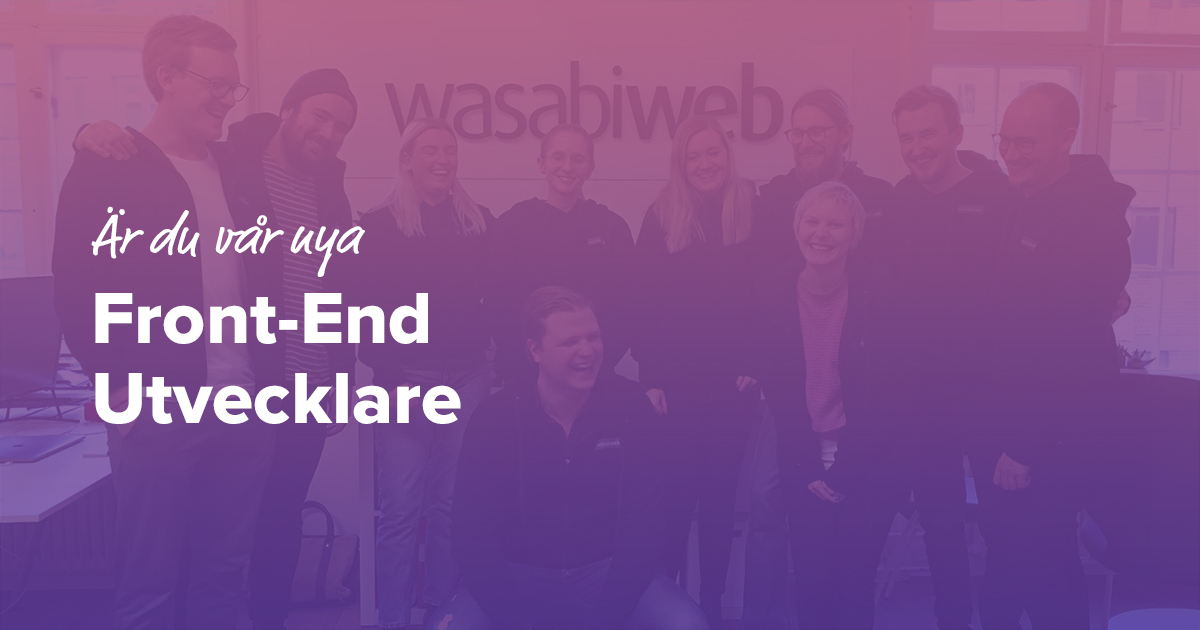 Do you have a love for web development? Are you energetic and always looking for new creative solutions? Are you also a team player who can transmit your technical skills to colleagues and customers? If so, take the opportunity to improve and  exchange skills together with other talented developers, communicators and UI / UX designers at the award winning agency Wasabi Web!
ABOUT THE POSITION
The Wasabi Web office is located in the old-style central bank's premises in the heart of Uppsala. Do you want to become a part of a wonderful company with a focus on teamwork and quality? Check out the movie below and get inspired!
ABOUT YOUR ROLE
As web developer at Wasabi Web, you will form part of a flat organisation consisting of a great team of web developers, copywriters and designers. You will work closely with the whole team and together, you will work to increase user-friendliness on our websites. You will play an important part in the development of new modules in our own product WW Platform, which is based on WordPress.
The position suits you if you want to grow as a web developer and, together with the Wasabi Web team, strive toward common goals. Freedom with responsibility and flexible work hours are applied.
THE FOLLOWING PERQUISITES ARE GIVEN TO EMPLOYEES AT WASABI WEB
Freedom with responsibility
Wellness contribution (Friskvårdsbidrag)
Table tennis during lunch and staff workout sessions
Fun projects with exciting brands
Occupational pensions (Tjänstepension)
The possibility to make an impact
The possibility to help the world through the company's charity project #GiveBack
Lunch & Learn – every three months, we have guest lecturers come to the office for inspiration.
We are looking for someone with a real interest in programming, who is keen on starting to work independently. You enjoy creating, love to stay on top of the latest development trends and often bring new, creative ideas to the table. You feel comfortable with both back-end and front-end development, and see your coding as an artform. The most important thing is your technical interest and strong will to develop professionally, but basic technical skills in the following fields are a must:
Deep understanding of:
HTML
CSS (SASS / SCSS)
Javascript
Good knowledge in:
As a person, you are a team player who is always willing to help the team and doesn't hesitate to lend a hand whenever assistance is needed. In addition, you enjoy having a supporting position, in which you contribute to increase customer satisfaction. You like to work in a structured manner and always make sure you finish the projects you've started.
INFORMATION
Start: As soon as possible, taking into account any notice
Scope: 50-100%
Location: Central Uppsala
This recruitment process is handled by Wasabi Web. Send your resume to: nils@wasabiweb.se.
LOCATION: 
Central in Uppsala, also perfect commuting distance for those who live in Enköping, Västerås, Gävle, Stockholm, Knivsta or Märsta.
PERSONAL INTEGRITY
When you submit your application to Wasabi Web, you agree to Wasabi Web processing your personal data in accordance to GDPR.
ABOUT THE COMPANY
Wasabi Web is an award-winning web agency in Uppsala, focusing on web production that increases corporate revenue. We also works with digital marketing, as to drive the traffic to web pages. Wasabi Web has gained the trust of over 300 brands such as Apollo, Taco Bar, Grammis, Vattenfall and Tom Hope.